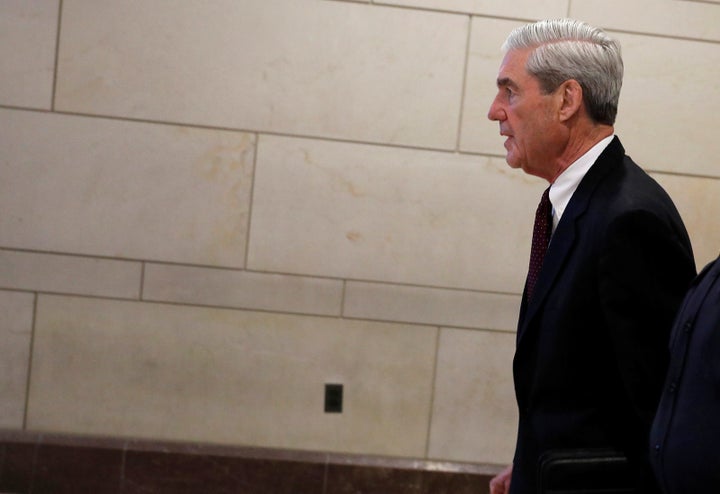 Aaron P. Bernstein / Reuters
The special counsel's office announced a federal indictment against the Russian-based Internet Research Agency (IRA), two other Russian entities, and 13 Russian individuals Friday in relation with the their actions of "interfering with the US political and electoral processes, including the presidential election of 2016."
The special counsel's office, which is investigating Russian interference in the election, provided the following statement:
A federal grand jury in the District of Columbia returned an indictment on Feb. 16, 2018, against 13 Russian nationals and three Russian entities accused of violating U.S. criminal laws in order to interfere with U.S. elections and political processes. The indictment charges all of the defendants with conspiracy to defraud the United States, three defendants with conspiracy to commit wire fraud and bank fraud, and five defendants with aggravated identity theft.
Beginning in 2014, according to the indictment, the IRA began "operations to interfere with the US political system," including by "creating false US personas" to operate "social media pages and groups designed to attract US audiences" and "traveling to the United States under false pretenses for the purpose of collecting intelligence to inform Defendants' operations."
By mid-2016, the operations, according to the indictment "included supporting the presidential campaign of then-candidate Donald J. Trump ("Trump Campaign") and disparaging Hillary Clinton." Specifically, "Some Defendants, posing as US persons and without revealing their Russian association, communicated with unwitting individuals associated with the Trump Campaign and with other political activists to seek to coordinate political activities."
At a news conference Friday afternoon, Deputy Attorney General Rod Rosenstein, who is overseeing the special counsel's work due to Attorney General Jeff Sessions' recusal, announced the indictment sought by Mueller — laying out the alleged social media efforts and the alleged fraudulent ways in which the effort was organized and implemented. He said the defendants had characterized their activities as "information warfare against the United States, with the stated goal of spreading distrust towards the candidates and the political system in general."
The indictment charges the IRA and others with a conspiracy to defraud the United States. Rosenstein specifically noted how the efforts included efforts to defraud the Federal Election Commission, Justice Department, and State Department. The additional charges include conspiracy to commit wire fraud and bank fraud, as well as several counts alleging identity theft.
Rosenstein said on Friday that there were no allegations in the indictment "that any American was a knowing participant in this illegal activity" — he said the Russian nationals charged took "extraordinary steps" to make it appear that they were ordinary activists — or that the alleged criminal acts had "any effect on the outcome of the election."
"This indictment serves as a reminder that people are not always who they appear to be on the internet," Rosenstein said.
Specifically, the Justice Department charged IRA members with conspiracy to commit wire fraud and bank fraud for allegedly using stolen identities to open accounts at a bank and online payments company PayPal. The indictment noted that defendants allegedly used the names, addresses, social security numbers, and birth dates of unwitting people to open four accounts at an unidentified US financial institution in the summer of 2016.
Some of that same information was used to register four accounts at PayPal, which according to its website, only requires a bank account and an email address to open an account. The defendants also allegedly opened 14 other PayPal accounts by buying credit card numbers and bank accounts that been created with stolen identities of real people. That operation used a combination of 14 unique bank accounts, six banks, and 11 email addresses.
"PayPal is intensely focused on combatting and preventing the illicit use of our services," a company spokesperson said in a statement. "We work closely with law enforcement, and did so in this matter, to identify, investigate and stop improper or potentially illegal activity."
The indictment notes that stolen identities were used to maintain the PayPal accounts, as well as accounts on unnamed cryptocurrency exchanges. Accounts at an unknown bank and with PayPal were used to pay for "certain organization expenses" such as advertisements on Facebook to promote its social media accounts. Other expenses included paraphernalia including "buttons, flags, and banners for rallies."
Some of the accounts were also used to receive money from US citizens for promotions and advertisements on IRA-owned social media pages. The defendants charged some US businesses $25 to $50 per promotional post on its fake accounts — including Being Patriotic, Defend The 2nd, and Blacktivist.
Some of these sites and activities were described as part of congressional investigations looking into the Russian interference.
Special Counsel Robert Mueller's investigation "is ongoing," Rosenstein said. He did not provide any additional details. Rosenstein did not respond to shouted questions at the end of the press conference about whether the indicted defendants had a connection to the Russian government or Russian intelligence operations.
The special counsel's office on Friday also unsealed a second new criminal case against Richard Pinedo, a California man who pleaded guilty to one count of identify fraud. According to the documents outlining the offense, Pinedo ran a company called "Auction Essistance" that was "designed to circumvent the security features of large online digital payment companies." Pinedo would buy and sell bank account numbers, including many that were created using stolen identities, according to court filings.
Prosecutors asked the have the case sealed when they first filed the charging papers on Feb. 7, according to the now-public court docket. They explained to the judge that temporarily sealing the case was necessary to avoid possible prejudice to the ongoing investigation into Russian interference in the 2016 election, particularly "an operation that used social media platforms to influence the US political system."
Pinedo was arraigned during a sealed hearing on Feb. 12. On Friday, the special counsel's office asked the judge to unseal the case. Pinedo's lawyer, Jeremy Lessem, did not immediately return a request for comment.
This is a developing story. Please check back at BuzzFeed News for the latest.