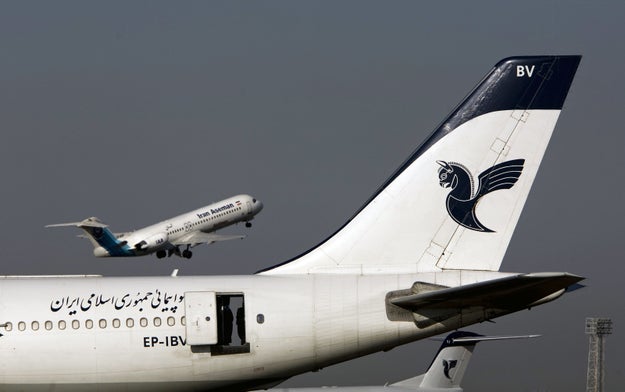 An Aseman Airlines plane takes off with an Iran Air aircraft in the foreground at Tehran airport.
Morteza Nikoubazl / Reuters
A passenger plane crashed in the mountains in central Iran on Sunday, and all 65 passengers and crew members on board were killed, the airplane company told state press.
The plane, a 20-year-old ATR-72 flown by Iran's Aseman Airlines, left Tehran at around 5 a.m. local time and was en route to Yasuj when it disappeared from radar. Though initial reports stated that 66 people had been killed in the crash, Iran's state news agency IRNA reported Sunday night that one person did not make the flight.
Those on board included 59 passengers and six crew members, according to IRNA reports.
The passengers included one child, according to the Iranian Students' News Agency, which printed a list of the names of those believed to be onboard at the time of the crash. The six crew included two security guards, two flight attendants, and the pilot and copilot, the BBC reported.
"An ATR aircraft of Aseman Airlines with 60 passengers and about six crew disappeared from radar this morning," Aladin Borujerdi, head of the Iranian Parliament's National Security and Foreign Policy Commission, told ISNA.
The plane crashed in a remote location that is a part of the Zagros mountains, near the Isfahan province border, and near the city of Semirom, according to NBC's Iran correspondent.
A search and rescue operation was sent out to scour the crash site near Dena Mountain, a mountain range within the Zagros mountains.
"It is not possible to send ambulances to the mountainous area, but choppers are being deployed," Mojtaba Khaledi, a person for Iran's emergency organization, told ISNA.
The airplane is generally used for short-haul flights, and the airline is known for servicing remote provinces in Iran. Many of Iran's passenger planes are outdated after years of international sanctions, Al-Jazeera noted.